Description
JAPANFUJI 1541 S  (w/ Safety Mechanism) Single Needle Unison Feed Lockstitch Industrial Machine
Double-capacity Hook
With its reliable feed and consistent seam quality, the JAPANFUJI Lockstitch sewing machine responds outstandingly to the sewing of heavy materials.
With its larger needlebar stroke, higher presser foot lift, and newly adopted double-tension mechanism, the JAPANFUJI DNU-1541S offers excellent sewing capabilities and responsiveness. The alternating vertical movements of the walking foot and presser foot are as large as 6.5mm. In addition, the ratio between alternating vertical movements of the walking foot and presser foot remains unchanged even when the material thickness changes. Thanks to this feature and the adoption of a new method of rectangular feed that prevents needle from fraying, the machine sews multi-layered parts of a material with consistent stitching pitch while preventing stitch gathering.
---
Key Features
Table and a Servo Motor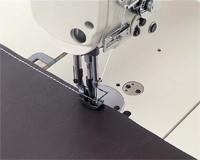 High-Speed Performance
The machine delivers increased productivity at sewing speeds as high as 2,500 Stitches per Minute.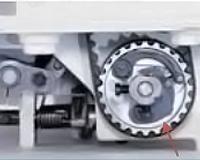 Safety Mechanism
If your machine gets jammed, it will automatically disengage the motor.
---
Machine Specifications
Max. Sewing Speed: 2,500 Stitch per Minute
Max. Stitch Length: 9mm (forward / backward)
Needle Bar Stroke: 36mm
Lift of the Presser Foot by Hand: 9mm
Lift of the Presser Foot by Knee: 16mm
Thread Take-Up: Slide Type
Amount of Altering Vertical Movement: 2.5~6.5mm
Hook: Horizontal-Axis Full-Rotary Double-Capacity Hook
Needle (at time of delivery): 135×17 (Nm160) Nm125~Nm180
Thread: #30~#5, B46~B138, Nm=60/3~15/3
Pitch Changing Method: By Dial
Lubrication: Centralized Oil Wick Lubrication (hook:automatic)
Lubricating Oil: Juki New Defrix oil No.2 (equivalent to ISO VG32)
Distance from Needle to Machine Arm: 264mm
Bed Size: 477x178mm
Motor Output: 550W
Weight of the Machine Head: 36.5kg
Motor Options
Clutch motors operate at a fixed speed, typically between 1725 – 3450 rpm, depending on the type of machine. Servo Motors on the other hand are speed adjustable. The two major advantages of the Servo Motor are that you can control the speed of the motor and that the motor is completely silent when the pedal is not engaged.
Some other advantages of the Servo Motor include:
They consume up to 90% less energy than clutch motors
1/3 lighter than clutch motors
Reverse motor rotation with the flick of a switch
Nothing to wear or adjust
Adjusted speed remains the same no matter how hard the pedal is pressed
Most of our customers find that the sewing machine is much easier to control with a Servo motor because of the speed control. This is especially helpful for beginner sewers but also for projects that simply don't require high speed stitching.